The Band Krampusi - was established in 1991 in Bjelovar, Croatia.


During that period they did more than hundred live gigs throught Croatia. They published two music cassettes (produced by The Krampusi) - the "Maximum Garage Punk 'n' Roll" and the "Prošo' B

ožić evo tebi nožić" (Christmats has gone away, so I'm gonna give you a knife everyday).

The band has published its first offical album called "1/2" for the Pam Ton and fetured on the compilation CDs "Monitor 1", "3" and "4" .
They shut two video clips, which are broadcasted on the Croatian Radio and Television and on the local TV stations as well.
Now, the band is in a studio "HB TON" in Zagreb where is recording a new album.

Music genre - pop/rock

Contact via e-mail: igor.palic@hgu.hr
Phone: (+385) (0) 99 431 674, (0) 98 207 890

Thanks for the visit!
The Krampusi

P.s.
By the way, do you know what the Krampus is?
A fairy-tale devil.

Design: BEROGRAF, Šubićeva 20, Zagreb Croatia
Phone: (+385) (0) 98 211 239

Marketing agency: EUREKA, Omiška 16/4, Zagreb, Croatia
Phone: (+385) (0) 383 66 14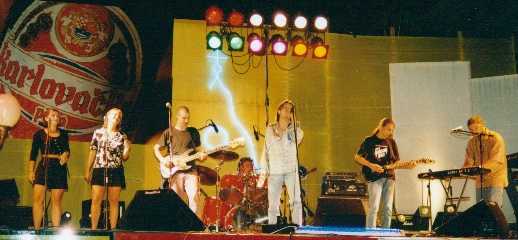 Krampusi - Nova Gradiška 1997.


---

Web page design & maintaining: POSLUH, Zagreb, Croatia